FITNESS CENTRE TO REMAIN CLOSED
The Fitness Centre will remain closed until Spring 2021 when the Recreation Committee will once again review the safe opening requirements.
The current re-opening requirements would mean having to remove at least half of the equipment in the facility, invest in several plexiglass partitions as well as hiring a full-time person to maintain the number of users and cleanliness of the facility. The Fitness Centre was designed as an unsupervised facility and making any of the required changes would not be economically feasible at this time.
Memberships have been suspended and will be re-activated once the facility is able to open. For members wanting a refund for pre-paid membership fees, please send a written request to the Township of Nipissing, 45 Beatty Street, Nipissing ON P0H 1W0 or email admin@nipissingtownship.com .
Please include the following information:
Name; Fob #; Membership Package originally purchased and current mailing address.
We apologize for any inconvenience this closure causes. The safety of the residents and members continues to be the main focus of the Recreation Committee and Township of Nipissing Council.
Payment Options Fitness Centre
Fitness Centre Access available 5:00 a.m. to 11:00 p.m. DAILY
Swipe Card Access:
Swipe Card $10.00 Refundable Deposit required with each purchase.
Note: Swipe Card option is not available for the Daily fee rate
Membership Options:
$175.00 per year (Individual)
$ 90.00 6 months (Individual)
$ 50.00 3 months (Individual)
$ 20.00 per month (Individual)
$ 10.00 per week (Individual)
$ 5.00 per night (Individual)
$150.00 per year (Seniors)
$150.00 per year (Students)
$325.00 per year (Family of 2)
$ 10.00 per card
For additional information please contact the Township Office at 724-2144.
---
New for 2014/2015
The Township of Nipissing has received $15,000 in assistance from the Ontario Trillium Foundation over 12 months to install a four station multi-gym system at the Fitness Centre. Funds were also used to purchase two indoor cycles, a seated elliptical trainer, a summit trainer, free weights, a punching bag and stand, rubber floor mats and accessory items. The new equipment, in a high-quality and safe environment, will encourage more people to engage in a healthy lifestyle. Grant Approval Date : June 26, 2014
The Township of Nipissing appreciates the Ontario Trillium Foundations continuing support of this facility.

---
New for 2013
Construction of a new accessible washroom facility, upgrades of the entrance to the lower level and installation of steps to building and upgrades to the roof supports over the covered entrance to address structural issues where all constructed in partnership with the Canadian Federal government.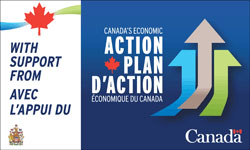 New equipment at the Fitness Centre. Three new treadmills, two elliptical trainers, two recumbent bikes, and one Powerplate. All purchased with assistance from the Ontario Trillium Foundation.