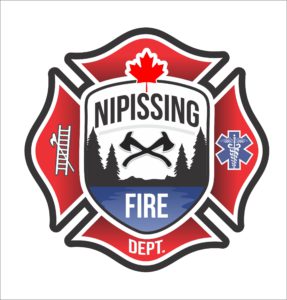 Mission Statement: The primary mission of the Township of Nipissing Fire Department is to provide a range of programs to protect the lives and property of the inhabitants of the Township of Nipissing from the adverse effects of fires, sudden medical emergencies or exposure to dangerous conditions created by humankind or nature.
Carbon Monoxide

Fire and Fireworks Permits:
How to apply: Download the application form, print it, and complete the highlighted areas.
2021 Fire Permit Form PERMANENT
Detailed instructions for obtaining permit
Fireworks Permit Application Form 2023
Submit the completed form in one of the following ways:
Mail
Fax at 705-724-5385
Email at info@nipissingtownship.com
In person at the Township office, 45 Beatty Street, Nipissing
In the dropbox located in the front door of the Township Office
Once received, the staff will validate the information submitted and approve the permit.
A copy of the signed permit will be returned to the applicant.
Application for Membership FD
2023-15 Establishing and Regulate Fire Department
The Home Owner's Firesmart Manual
Community Notification Enrollment
ByLaws:
OpenAirBurningByLaw202042
2017-03 Fireworks Bylaw
Campfires:
An Open Air Burning Fire Permit is not required for campfires used for personal warmth or cooking. These fires are limited to a size of 1 metre (width) x 1 metre (length) x 1 metre (height – fuel and flame combined). Day time burning restrictions within the Burning Season (April 1 to October 31) apply to campfires. For permitted times of burning and other pertinent information on location, safety and requirements please refer to a copy of the Open Air Burning By-Law, contact the Township of Nipissing Fire Department or the Township Office.
For further information on these by-laws please contact the Fire Department at
705-752-2772 or the Township Office at 705-724-2144,
admin@nipissingtownship.com
---
FAQ About Open Air Burning:
Q: Do I need a burning permit for all open air burning?
A: "Yes", the Ontario Fire Code states "open air burning shall not be permitted unless approved or unless such burning consists of a small, confined fire, supervised at all times, and used to cook food on a grill or barbeque".
Q: Do I need a burning permit for a campfire?
A: "No", providing it consists of a small, confined fire, supervised at all times, and used to cook food on a grill or barbeque.
Q: Can I burn during the day in the summer if I have a burning permit?
A: "No", the Forest Fire Prevention Act states "no fires shall be permitted two hours after sunrise until two hours before sunset during the fire season".
Q: When is the fire season?
A: The first day of April until the last day of October every year.
Q: I have an incinerator, can I burn in it without a permit?
A: Only if the burning appliance is an approved burning appliance. The Ontario Fire Code states "only burning appliances that conform with the Technical Standards Safety Act, for outdoor use and is installed in accordance with the manufacturer's instructions".
Q: Why do I need a burning permit in the winter?
A: Because it's regulated under the Ontario Fire Code and states all open air burning shall be approved. By being issued a burning permit, you are obtaining approval.
Q: If there is still snow on the ground after April 1, can I burn during the day?
A: No, this is a Provincial Regulation under the Forest Fire Prevention Act. However, the Fire Chief can authorize a day burning permit if the burning site and materials meet the Fire Department's satisfaction.
Q: Can I have a campfire during a fire ban if I get a burning permit?
A: No. All permits are considered to be cancelled and there is to be no open air burning during a fire ban.
Q: Do I need a burning permit for fireworks?
A: Yes. Fireworks are only permitted between dusk and 11:00 p.m.
Fireworks are not permitted during a fire ban.
Failure to comply with By-Law 2017-02, the Ontario Fire Code or the Forest Fire Prevention Act may result in a fine as well as the responsibility for the costs to extinguish a wildland fire.
For more information on Open Air Burning, Fire Safety Tips, Burning Conditions and Restrictions please visit www.ontario.ca/fireprevention or by contacting the Fire Chief at 705-752-2772.
It is everyone's responsibility to act responsibly to prevent wildfires.
---
Heating
Keep anything that can burn at least three-feet away from heating equipment, like the furnace, fireplace, wood stove, or portable space heater.
Have a three-foot "kid-free zone" around open fires and space heaters.
Never use your oven to heat your home.
Have a qualified professional install stationary space heating equipment, water heaters or central heating equipment according to the local codes and manufacturer's instructions.
Have heating equipment and chimneys cleaned and inspected every year by a qualified professional.
Remember to turn portable heaters off when leaving the room or going to bed.
Always use the right kind of fuel, specified by the manufacturer, for fuel burning space heaters.
Be sure all furnace controls and emergency shutoffs are in proper working condition.
Leave furnace repairs to qualified specialists. Do not attempt repairs yourself unless you are qualified.
Inspect the walls and ceiling near the furnace and along the chimney line. If the wall is hot or discoloured, additional pipe insulation or clearance may be required.
Check the flue pipe and pipe seams. Are they well supported, free of holes, and cracks? Soot along or around seams may be an indicator of a leak.
Is the chimney solid, with cracks or loose bricks? All unused flue openings should be sealed with solid masonry.
Keep trash and other combustibles away from the heating system.
Important Tips:
Ensure all entry/exits in your home are cleared from snow to ensure you can get out in case of a fire.  Make sure all windows are not frozen in case you need to use these as an escape mechanism.
---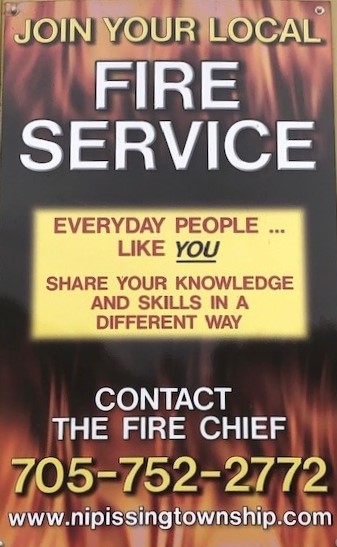 ---
Fire Department Staff
Will Bateman – Fire Chief
Richard Chapman – Deputy Fire Chief
Andrew Barry
Brandon Cangiano
Jennifer Chapman
Chris Foote
Whitney Gardiner
Dean Gates
Stephen Jeschke
John Klunder
Randy Lockhart
Stuart Perrin
Mike Rowe
Ryan Rice
Bradley Rounding
Denise Scott
James Scott
John Tomlinson
Tristan Vince